What is this?
This is my personal lab notebook.
---
Set up your own notebook
Note this
won't work
until Lektor app v2.0 is released.
Until then, use dev version per the lr-notebook
readme
.
---
Get the Lektor app.
Run Lektor.app, use the button to open the file nb.lektorproject in your lr-notebook folder, then to view. That's it!

---
Create a folder
Browse to the Folders page.
Click top-right ✎ button to open admin interface.
Click "Add Page" button under "Page Actions", choose a Name, and save via "Add Child Page" button.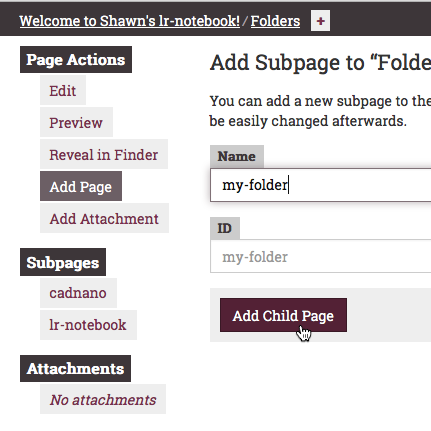 Create a log entry
Browse to desired log month.
Click on the day you want to add.
Edit contents.lr file to set _hidden: no
Refresh the month page, click the newly active link
Add a folder via footer link or admin interface.
Populate the description and body fields.



---
Share
If hosting your lr-notebook on github, use Travis-CI to build a static site every commit and deploy it to a gh-pages branch for free public hosting.
This is not password protected.